One of my journalist friends alerted me to a news piece on Mail today. I was horrified with the views of this fanatic who posts  with the avatar of "ultrablue". I mean who would not be …see his thoughts about other races.
Here is a link to the sick post. You better not read it. It might cause your blood to boil and you may feel like feeding that idiot author to African Driver Ants.
The author spews venom about Indians who died in the recent flight disaster that claimed 158 lives at Mangalore Airport in Karnataka. While the world is mourning the deceased and consoling the families of the bereaved this creature has this opinion about the incident.
I not care if the victims "rest in peace" but it seems to me that they are, rather, resting in pieces!

This plane, carrying Indians who live and work here, means that 160 Indians that clog up the roads, cause accidents, fail code inspections at Indian restaurants, speak like this guy, and are a general drag on the security of the UAE, won't be coming back. That is a very GOOD thing!

I can only pray that this happens every week!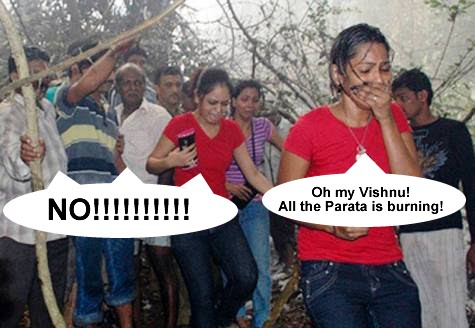 Next he follows it up with more crap about Indian names and Indian food.
Mr UltraBlue.. feels 50% or more of the Emirates population is Indian. Which is not true. But since when the idiots of Dubai were intelligent? If they were why would the need of foreign workers ever arise? All they can do is sleep around with a multitude of whores and maintain a family big enough to make up a 100 camel caravan.
Yeah we may be cheap workforce but your country needs us to stay up on those drying oil wells. I am glad that at least the government agrees Indians are the best people to work with. But at the same time it makes us sad that some dung brains like UltraBlue have such opinion of Indian race. That shows the level of education and upbringing you got.
On top of it he blogs anonymously and could not face more than 5 comments on his blog. The fart face needs to get some balls and face the public like a man.
UPDATE : The site in question has now been flushed down the toilet. Thanks to the active blogging community and the support shown by Understanding Indians and Emaratis. You all have played your part and I say you Rock.