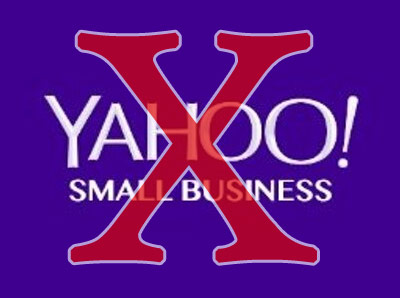 Is any one looking for a bullshit/horseshit domain hosting service? Consider Yahoo domain or smallbusiness.yahoo.com.
While listing the 5 reasons why you should not be using Yahoo Small Business I am highlighting some of their shitty business logic as well.
1. Total Confusion: My invoice is raised. I process the payment. The registration for a particular domain is renewed for two years. For some god damned reason the invoice payment fails. I am a Yahoo user with the domain registered with yahoo mail id but yahoo prefers to send the notifications to the alternate email id. Wow.
2. Failed Technology: They cancel my account. My domain keeps working even though the payment fails.  Their mails go to an account that I am not checking. I plan to change my hosting and when I look around where is the domain I don't find it any more. I look up WHOIS and find my account registered with melbourneIT. What the hell is going on and who are these people. I look up the domain on their site and the say "could be a reseller". I call them and I am shocked to find that Yahoo is their reseller. At least they are pretty smart and professional people and help me out with even Yahoo customer care number for domains.
3. Shitty Customer Care: I call up Yahoo and their shitty system says I have to wait for 20 mins. Imagine calling on ISD and being asked to hold for 20 mins. 3-4 calls like this and my one year Domain registration fee is wasted on customer care.  (Thanks to the IP phones we have got here) Finally after getting the account validated after two calls (20 – 24 mins of hold each) I pay and get the account reactivated.
4. Shitty Commitment: My initial requirement was to rename the name servers. After validation they put my domain on pending status saying it might take upto 72 hours for the DNS change. After 4 complete days I am still waiting for the pending status to lift. I don't know how many days more I will have to wait after I change the NS to my desired location.
5: Shitty Pricing: First year they charge $10 for .com domains. Next year you are supposed to pay $35. Can any one tell me why? I can dare to call myself a techie and I am pissed up with this shit. I wonder what common have to face. Other top domain registration companies like GoDaddy etc charge around the $10 for every renewal.
This review is a totally personal opinion of mine. It is not motivated by any individual or company. I just wish to share my bad experience with the aforementioned company. I know many of you might disagree with me. Feel free to comment.