We are all pretty much aware of the over advertisement penalty. Website / blogs are being hit with this penalty of displaying too many ads or conversion elements above the fold without much genuine content being displayed above the fold. In this post I am going to tell you how to fix duplication issues and over advertisement issues arising out of image attachment pages created automatically on wordpress.
Now consider a situation like this. When I search for a particular keyword two pages from my bolg comes up in the search results.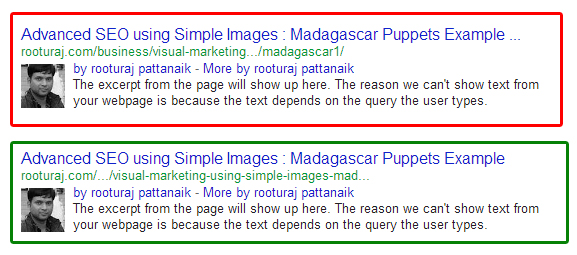 The first result is an image attachment page. It contains no content at all, except one image.
Now unfortunately wordpress is configured to use the same file (page.php) to create a dynamic page for the image attachment.
It uses the title of the original post where the image is being used as the title of the image attachment page too.
Bloggers frequently use images in their post to engage audience. So image attachment pages start piling up clandestinely. They are now a huge collection of junk pages automatically created on your website.
They negatively affect your sites SEO.
It creates pages with very less content with are all almost identical to each other.
They duplicate the Title tags. Even though they are not exactly same, in most cases the part of the <title> tag that google considers is identical. (upto 65-70 chars)
They increase bounce rates of your site if they rank higher than your original post.
You make your website vulnerable to Panda penalty (poor content) and Over Advertise Penalty (no informative content above the fold)
Here is an example of such a page.

over advertisement penalty
How to remove image attachment pages?
Since they are not real pages they cannot be deleted. If they are deleted the image is deleted along with it.
You need to take the following steps to fix this issue.
Remove the links to those dynamic pages.

disallow wordpress image links

On any of your old posts that contains an image attachment page, click the image and pick the edit option on top left corner.
In this dialouge box the ideal thing to do would be to choose 'None' in the link URL field.

Remove the attachment page from Google's index.In step 1 we removed the link to the dynamic image attachment page. But that does not mean the page does not exist any more  It is still accessible. So go to your google webmaster tool and request a URL removal. It should be gone in a weeks time.

remove url from google index
How to prevent further image attachment pages from being created?
Now it is important that such image attachment pages are not created too often. You can do this while you upload new image files and insert them in your posts. Alternatively you can download this small plugin that makes sure the default choice is set to None while choosing the Image URL. Get the plugin here If you wish to do it manually, this is how you do it on the image attachment dialogue box.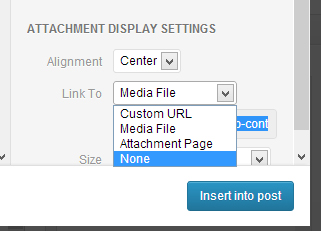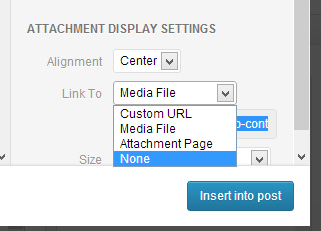 These days it is important to work on Search Experience Optimisation rather than Search Engine Optimization. Because effect of  user experience on SERP is huge these days and you cannot expect to rank well for ever just by manipulating ranking signals like back-links. Here is a quick read on search experience optimization by Envigo Digital.