AMP Project and optimization for SEO benefits is now the latest trend to hit web developers and SEOs around the world. While there may be debates about the benefits of accelerated mobile pages for different niches and industries there is one clear understanding, online business that are working for a faster and mobile friendly system are reaping the profits.
The biggest debate is "AMP sites killing conversion" and generate lesser sales than an optimized responsive website. For a small business owner doing online business all that matters is more leads and more sales. More traffic necessarily does not mean much to them. This is especially true when they invest in building AMP sites , get more traffic but in the end the number of sales / leads declined. I will always recommend using professional mobile application development company for making amp pages as well.



How does one make better AMP pages with higher conversion rates?
Provided below are two screenshot of a small business based in Boston, MA, USA. To the left is the responsive version of the home page and to the right is the AMP version of the same page.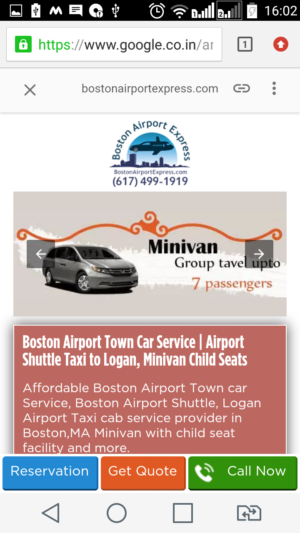 Here are some simple points to follow while making AMP pages.
Keep it simple and to the point.

Simplicity and clarity are the most important aspects here. We have a very small window of operation – a typical screen of 4-6 inches high and 3-4 inches wide. Vertical scrolling is fine but the best area in the window of operation is the "above the fold area" or the content that is visible on page load without scrolling.

Keep conversion elements standing out above the fold.

An AMP page loads instantly, but please remember that it can be closed instantly as well. Note the cross button on the top left. Tapping that takes a mobile user back to google search results. So after doing Point 1 above, you must make sure how the user can order that thing for which he has landed on your AMP page.
Use buttons of tap-able size in contrasting colors.
Avoid using plain links as conversion element, make them look like a tap-able button.
Best if you can keep them floating, or fixed at a particular part of the screen. So that even if someone scroll the conversion elements are still visible and hard to miss.

Avoid confusion with too much information or conversion options

Confusion is a conversion killer. When the user cannot decide which button to click or which page to visit they will close your page and look for an alternative. People's patience on the web is minimal and we need to keep it in mind when designing an AMP page. Notice the case study screenshots above. There are three conversion buttons in blue, orange and green. You may think they are too many and just two should be enough. But we must take into account the fact that, people who do not want to make a reservation (because they are not convinced yet) and do not want to make a call will drop out. So a no payment / no voice call alternative to know more about the product being offered has been provided.

Keep all explanatory text and additional information below the fold

All extra content and images, widgets (if amp supports it) should be sent down the fold. That is the user can view them on scrolling down. If someone is interested in knowing more, he will scroll down. Lets not force all the information on everyone. Especially returning customers do not read anything at all, they just google your up and go straight to the conversion element.

Be clear with slideshows / carousels.

Compare the two carousels being used here. First one is the one being used on responsive version. Its just a scaled version of the one used on the website. This would probably look great on the website where things are large and easily readable. But on a mobile this looses meaning and clarity. So the AMP version is simpler with no clutter on the background – just loud and clear.
Some people may suggest not to use slideshows at all because they are conversion killers. But on AMP where its important to convert and space is minimum it is important to convey what our benefits and offers to the prospective customer.