Before I tell you how to get unlimited free Facebook likes and Twitter followers please take a moment to read my previous post about buying facebook likes and fans. This post will tell you the SECRET to thousands of Fans for your business page or fan page on Facebook. You can use this same system to build Twitter followers and YouTube Channel views ans subscriptions. People charge somewhere between 5$ to 50$ for this simple tutorial. I am providing it FREE. Enjoy.
Follow the instructions strictly. You can do as you like once you are familiar with the system. Till them stick to the line.
Join Twiends . Sign up with your twitter account if you have one.
Once you join you get 15-25 free seeds. These seed are like credits to be used on this site.
Now go to settings and add your details. Verify your E-Mail address and earn extra seeds.
Add a Face book fan page in the Facebook Settings. See the screenshot below. You can add only those Facebook Pages that you have created or those you administer. So if you want to promote some other page as the creator to set you as the admin.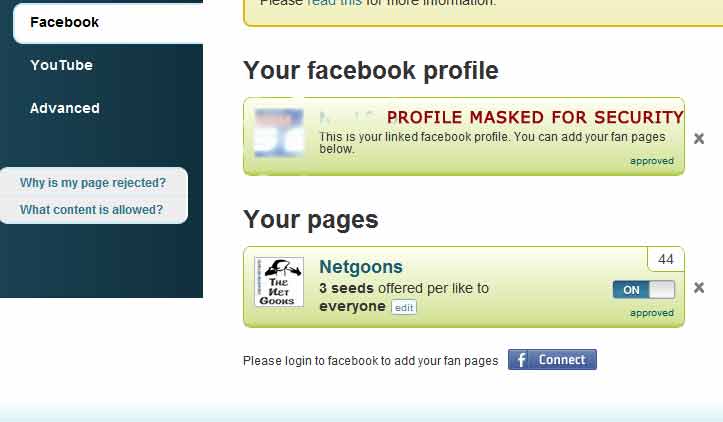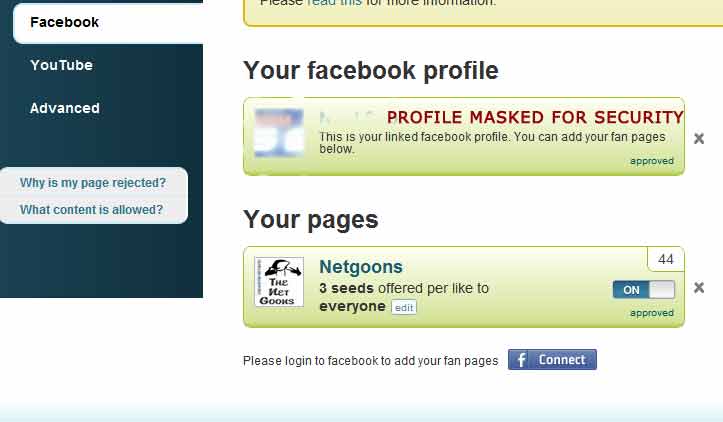 By default you loose 2 seeds everytime someone likes your page on twiends. If you have lots of seeds but not getting enough likes/fans then increase the seed value to 3. The higher the seeds the faster you get the fans and followers.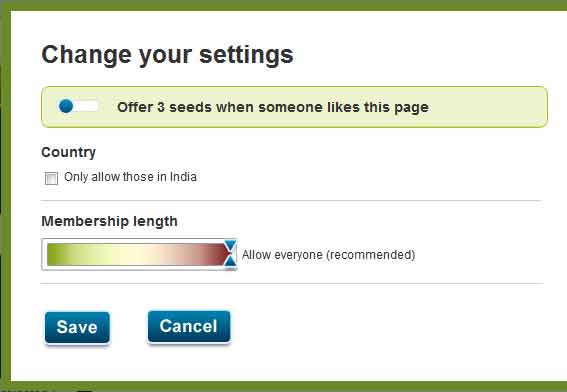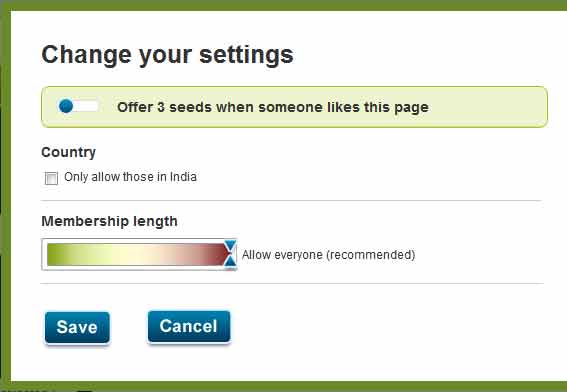 If you seek only country specific fans then tick your country option as show above. You can also set what kind of users are allowed to follow you. Set you seed offer and see your fans growing steadily over time.
Now the most important part is getting the seeds. Once you are out of seeds you get no birds. I mean you get no fan/followers.  You can get more seeds by liking other peoples pages, watching youTube videos, following twitter accounts and much more. Finally you can buy some seeds if you dont have spare time to kill doing all those activities I mentioned before.
You can replicate the same success with your twitter account and YouTube videos. But again remember my advice from previous post. (link provided at the beginning of this post). These are not the right kind of fans that will give you any long term benefit.
Thanks – I sincerely hope this helped you. If it did, like me or recommend this post to your friends please.