This is crazy, I know. For the first time in my life I am dumping a google service to move over to a Yahoo service. Finally I have decided to stop banging my head around Google and start using Yahoo's weather API.
All widgets using Google Weather Api are currently broken. Many systems that had integrated the API are now completely pissed up with it. One person was complaining on a forum that their Phone support which had automatic weather advice, fetched from Google weather API is breaking intermittently.
Here is a discussion on Google Groups which the Google Admins did not bother to answer till date.
https://groups.google.com/forum/?fromgroups#!topic/Google-Gadgets-API/XCjkWgifejE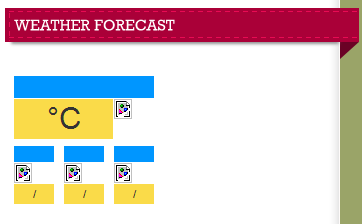 I did a little digging around and found out that : since Aug 7th Google API for weather is broken. While it somehow works on android, iGoogle and some other google platforms, it is currently broken on most widgets and API integrations. My own little API integration on our travel blog IndiFest is broken. ———>
If you need to move to a better Weather API and can't wait for google to fix the problem, here are some good resources for you.
http://www.wunderground.com/weather/api
http://developer.yahoo.com/weather/
I will work today on a PHP script that reads Yahoo weather API and graphically renders them. Want a similar look and feel like the Google Weather apps on android mobiles.