This is a security and fraud alert to my readers. This mail is affecting many people in India. If you see something like this click spam and delete. Do not click the link provided or submit any information they might ask. Just hit delete.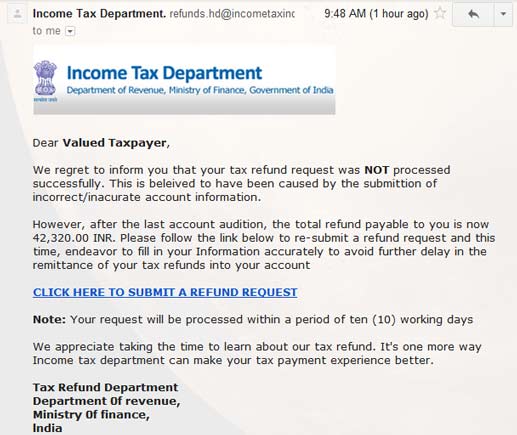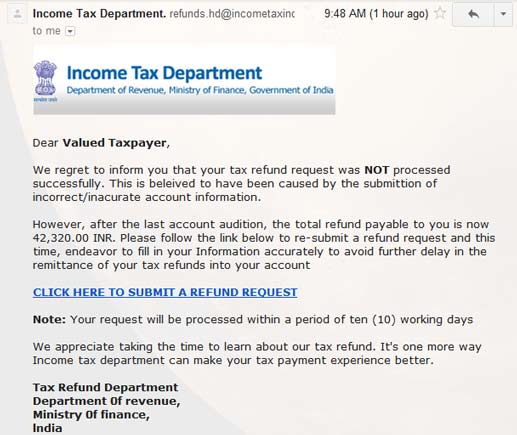 Dear Valued Taxpayer,

We regret to inform you that your tax refund request was NOT processed successfully. This is beleived to have been caused by the submittion of incorrect/inacurate account information.

However, after the last account audition, the total refund payable to you is now 42,320.00 INR. Please follow the link below to re-submit a refund request and this time, endeavor to fill in your Information accurately to avoid further delay in the remittance of your tax refunds into your account

CLICK HERE TO SUBMIT A REFUND REQUEST (malicious link removed)

Note: Your request will be processed within a period of ten (10) working days

We appreciate taking the time to learn about our tax refund. It's one more way Income tax department can make your tax payment experience better.

Tax Refund Department
Department 0f revenue,
Ministry 0f finance,
lndia
Here is the header of the mail. Pay close attention how they try to mimic a government site with a .gov.in extension. Also note that it actually originates from a different domain than what they specify.

I urge you to share this post to help not some tech savvy friends of ours from falling into fraud traps like this one.
Thanks for reading.
Raj