Do you often take screenshots on your android mobile and need them on your PC or laptop?
But when you connect your android phone to your PC or laptip in media device mode you don't know where to find the screenshots folder. Well here is how to do it.
Normally screenshots folder would be in either of the two places
SD Card > Pictures > Screenshots
Internal Memory > Pictures > Screenshots
Similarly if you want to find the location of any file or photo in your android mobile, do this.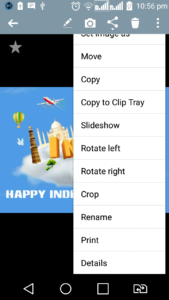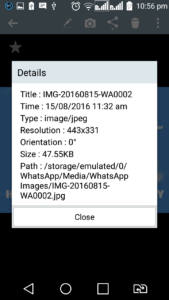 Open any file and touch it. Then find the options icon (three dots icon in the top right of phone screen).
If brings up a menu as shown in first pic above. Then click details. and it brings up a screen like the second pic above. At the end of the details you see the location of the file. It gives you enough pointers to the actual location of the file.  So navigate to the right folder on your PC or laptop and use the file as required.