Taking a Club Mahindra Membership has been my single largest buying mistake ever.
Here are my 10 reasons why you should not take a Club Mahindra Membership.
Members end up paying more per room per night.
Pay an Unnecessary exorbitant amount for Membership
Get Zero Membership Benefits.
They loot you with stupid extras
You can book only during some months.
Hell lot of rules that will blow your brains off.
You do not get Free Breakfast that you get with direct booking on Hotel Portals
Pay more for Food Bills
Pay even more for other Resort Amenities.
You cannot cancel or refund or transfer the bloody membership
Club Mahindra Members end up paying more per room per night than non members
Read this carefully to understand what kind of blunder is taking a club mahindra membership.
You pay 2,00,000 INR or more to take a membership. For a life long deposit on 2 lakhs (minimum value) you are entitled to at least 12% interest every year.
Interest Value per year : 24,000 INR
AMC amount per Year : 14,000 INR
Interest on AMC per year : 1,2000 INR
_______________________________
Total Yearly loss to you: 37, 200 INR
_______________________________
Total Number of Nights you get : 7
Cost per room/night : 5,500 Approximately
By as a non member from other hotel sites : 3000 INR (all costs inclusive) + Free Break Fast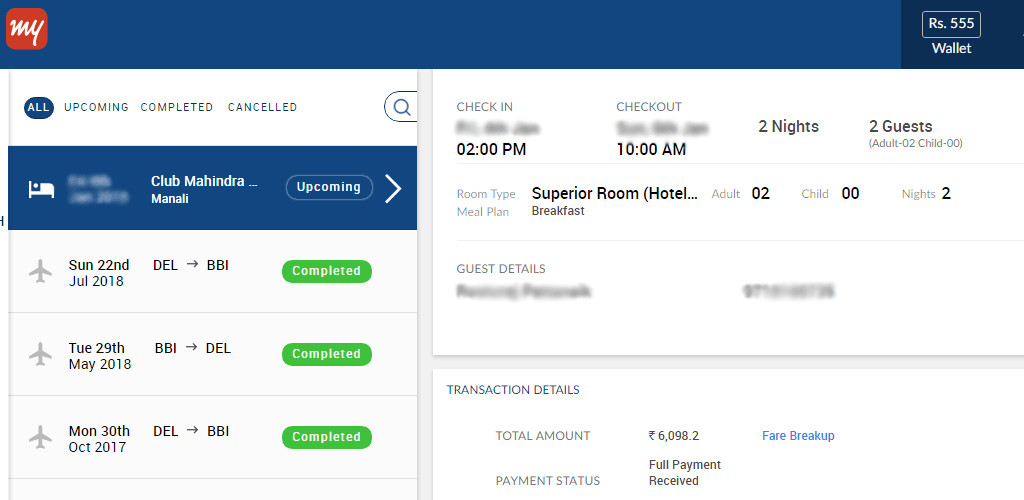 Here is the proof how I bought the same room that Club Mahindra did not allow me to book even though I am paying 5,500 per room per night, from Makemytrip at 3050 INR including Makemytrip.com fees. Plus this also includes FREE Breakfast worth 1,200 per couple per breakfast. If I include that it costs me 1850 INR compared to 5,500 I pay on ClubMahindra for the same room without breakfast. I curse the day I made this epic mistake.
Pay an Unnecessary exorbitant amount for Membership
When you are not actually getting any benefits on room rent why would you want to invest a huge amount forever? Did you know that a 3 lakh Investment (which is the cost of the cheapest season membership) could get you a return of about 28 Lakhs in 25 years? You could freaking buy a flat for that bloody investment for 5 years. What do you get from Club Mahindra? More annual bills of 15k Per year.
Please make a better investment, and never buy Club Mahindra membership. You can book rooms in those properties from any hotel booking site for much cheaper rates and enjoy cashback, discount free nights and free flights on your travel bookings when you buy from other sites.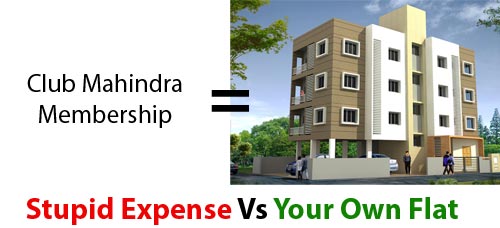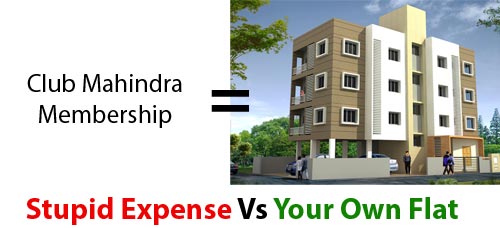 They loot you with stupid extras – Absolutely Nothing is included in your resort stay
When you normally book a resort your get resort benefits like
1. Free Breakfast / Welcome Basket
2. Bonfire / Activities / Group Games and Fun etc
3. Kids fun zone or activity area
4. Free Pickup / Drop from airport or arrival point
But as a member when you book a Club Mahindra resort you get ABSOLUTELY NOTHING. You pay for everything, even for group activities like Tumbola. You also have to pay for every meal, every kids zone activity, every adventure activity. There is nothing special for members.
You cannot cancel or refund or transfer the bloody Club Mahindra membership
There would be no product like this where you pay Lakhs of amounts and have no maturity benefit or cancellation system if you do not want to use the product. You cannot use the rooms for anyone else other than your parents. Their glib tongue salespersons only know how to brainwash you. You can only regret the mistake and nothing else.
Though there is a transfer process, be ready to lose 30-50% of your entire investment. Like if you have invested 3.5 lakhs in the membership and you wish to sell it now you would have to offer it at something like 2 lakhs.