It was pure horror for me when I came across this disgusting truth recently. My digital marketing agency works with cleaning companies in the UK and during a competition analysis procedure, I came across the Naked Cleaning Industry. The extent to which people go to make profits is purely disgusting. Selling a woman body for the visual pleasure of another human being is nothing less than sexual exploitation, even if the woman concerned consents to this act. It is prostitution whatever name is re-phrased for it.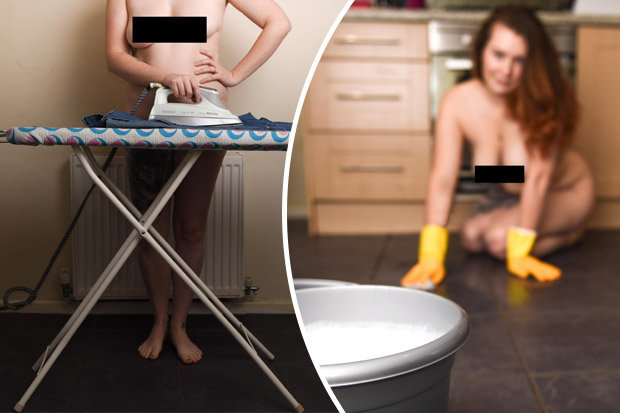 Image Credits: https://www.dailystar.co.uk/
Here is what these Naked Cleaning Service Providers do:
They hire "body confident" people who can clean other people's homes and offices.
These naked cleaners are required to strip completely and then scrub the floor, or clean windows, wash cars, clean carpets or upholstery and do other such cleaning tasks.
The employer is allowed to observe the naked cleaner but not allowed to make physical contact. Basically, its voyeurism re-packaged as a cleaning service.
Though its all kept hushed up, many employees of such companies have come forward with complaints claiming that they are being forced into sex.
While such companies state on the websites that customers are not supposed to ask cleaners for anything more than cleaning services, it has been revealed by sting operations that "nude plus" services are also being offered secretly at 75 GBP/hour while regular services start around 35 GBP/Hour.
I am actually disturbed with this trend in British markets. This is a serious threat to regular cleaning companies in UK who take great pain in building a clientele. They work hard to retain them and have to pay competitive wages to employees. And for marketing agencies like us, it gets really difficult to sell a regular service in face competitors who sell the same service plus SEX.
This is the beginning of prostitution of business when the business of prostitution is on a decline. If this trend continues, we will soon be having "naked pizza joints", "naked gasoline stations" etc. This is the death of social values and business ethics in the UK.
Ref: https://www.dailystar.co.uk/real-life/704733/naked-house-cleaner-nude-cleaning-workers-investigation
Ref: https://www.thesun.co.uk/news/7256527/naked-cleaner-earns-thousands/